Episode 5: Bureaucrats, Brides, and Bollywood stars
By: Dr Deonarain
Jackass.
That's all I could think.
He burst into the tent in an over-bright yellow parka with his small entourage and all I could think from the start was: What a jackass.  I'd like to think I'm a person of a more even temperament, but sometimes I'm not.  Truth be known, I was feeling a bit burned out.  My last month or so consisted of the following schedule: 10 days of trekking at altitude while giving lectures in the evening, 3 days of physical labour (again at altitude) setting up the tent camp and clinic, and 21 clinical days of work without a day off and all this while living in a tent at sub-zero temperatures.  I was tired.  Cold.  Overwrought. And I'd asked for every minute of it.  I had only myself to blame.  I had volunteered for this position.  In fact, I'd waiting YEARS just to volunteer for this position.  Oh well.  He was still a jackass.
He was a Nepalese bureaucrat sent from Kathmandu to measure the height of Everest.  About 40 in years and tall for Nepalese man, he used this proportions in an ungainly way—an exaggerated gait and postures that seemed affected and took just a little too much space in the room.  Conversely though, his features were somewhat bland and indistinct.  He was an engineer by trade and been assigned a group of Sherpas along with a few other engineers to get the job done.  He had walked into the busy clinic, pushed his way past patients and visitors, walked right into the clinical space.  He shook hands in an exaggerated way and handed us all business cards.  He followed suite with a five minute monologue on his role and importance here at Everest.  While he spoke, I glanced at it his business card and pocketed it promptly.  I made a point of forgetting his name.  Next, he sat down in the middle of the room on a chair, hands folded behind his head and elbows splayed out, knees as well.  He wore the smile of someone pretending to get a joke that he hadn't.  "I would like my blood pressure checked!" he boomed magnanimously to no-one in particular, the expression unchanged on his face.  I didn't budge from my spot, just observed him awhile.  I wondering next, even if he was exsanguinating, if I would take his blood pressure.  In fairness, I suppose I would…but I thought perhaps I would wait for that day.
If you say 'I do' at 5364m does it count?  I would have to say, yes, yes it does!
You see, I have a bit of investment in this question.
I asked my wife to marry me at 4800m in the Annapurna region of Nepal in front of giant blue glacier off the shoulder of a Himalayan mountain.  She had said yes and I've never looked back!
Today, on an icy and rocky outcrop just in front of the Everest ER clinic, Jess, a lovely American wilderness doctor say 'yes' to her fiancé, Zach, and as did he and the two were wed in a heart-warming ceremony.  They had chosen Everest Base Camp because they had a shared love of Nepal and had made an earnest pact to return on their last trip a year ago.  The idea to get married right at base camp grew from there.  The fact that they had chosen the 'front lawn' of Everest ER for the nuptials and invited us to join in was a unique experience.
Jess looked lovely in a red sari with gold embroidery of Nepalese Hindu tradition and he was dapper in a black Goretex jacket.  Love at any altitude is love.
When she arrived, she looked exhausted but carried herself in manner that was both classy and warm.  Her director, Anup, was affable, young and energetic.  They had only planned to stay for lunch, but when the weather rolled in from the valley, making an exit on their chartered helicopter impossible, they opted to spend the night out our outfitter's camp.
Manisha Koirela is a Bollywood star.  She has featured in about 80 films and is to many a legend.  Although Dee and I didn't know of her beforehand, our Nepali colleague, Pawan, was a bit starstruck and possibly a bit besotted.  He didn't waste time asking her for a selfie.
We talked late into the night—about the mountains, about Everest, about films, art, music, language, politics, and travel.  Outside, the stars revolved silently in the inky black night around the sleeping giants of the Himalayas.  The frost carpeted the ground outside and as the hours past, stealthily crept over the tents of the camp.  Inside our mess tent, we stayed warm, with conversation and good times huddled around the propane heater which glowed a mellow blue at its grill.
At Base Camp, Everest ER is a beacon of sorts.  It seems to draw people in from all over—from the exotic to the mundane and everything in between.  Bureaucrats, Brides, and Bollywood stars—all have graced our clinic…  and our doors are open to all. There was no doubt that all these visitors give colour to my experience here, and for that I was thankful, despite my moods.  After all, not everyone has to be a patient.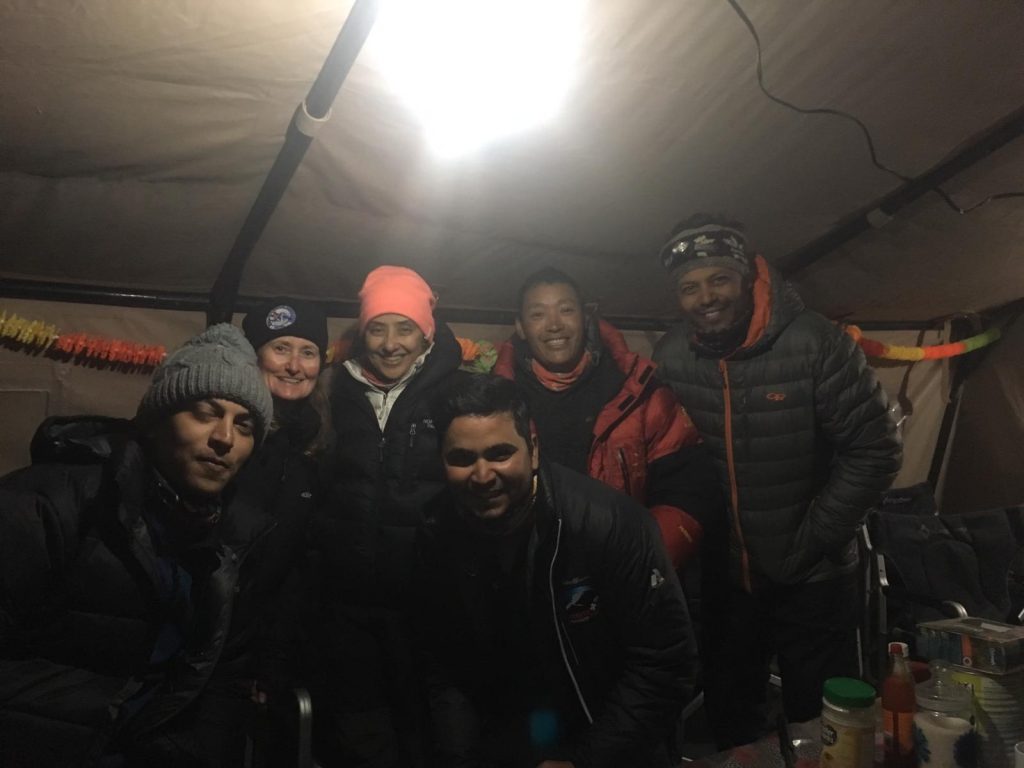 Manesha Koirela (centre) with the Everest ER team