The new fellowship certificates, incorporating the Royal coat of arms will be printed soon for everyone.
Due to the mechanical failure of a specialised printing machine, the certificates presented at the recent ceremony were not the final product. We will be working with the printing company to produce Fellowship certificates for all Fellows of the College, and send them in the mail (or possibly deliver by hand for some of our Auckland Fellows).  Our first priority will be those who continue to be full members and are on the recertification programme.  Subsequently we will aim to produce certificates for all remaining Fellows.  Anyone with the FAMPA or FCUCP designation will be presented with the new certificate (FRNZCUC).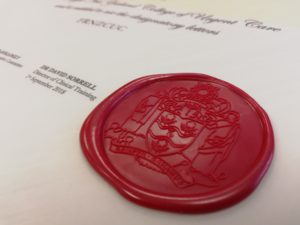 The professionally printed certificate will be produced once each year, prior to the annual Fellowship ceremony. Those who achieve Fellowship well before the next ceremony will receive an interim certificate. This will be a high quality document and will include a College seal.  The provisional date for the next Fellowship ceremony is Saturday 21 September 2019.